PRODUCT REVIEWS

This page will be an area where I review products that I have used and tested. I am not paid by these companies for these reviews, yet feel that their products are useful in many outdoor pursuits. I will rate the products on a scale of smiley faces, with

being the lowest and
being the highest.
---
---




Nalgene Water Bottles
Reviewed on Sep.22, 1998
I own both the 1 L (32oz) Loop-top rectangular bottle and the 1 L (32oz) Round Wide Mouth Loop-Top Bottles, both made of Lexan. I use them a lot on my canoeing, skiing and biking trips. These bottles are tough!! I have heard that you can run them over with a car and they will still bounce back into shape and remain leakproof. I haven't tried this, but if you do, let me know. They are totally leakproof, and the Lexan does not absorb odours or taste. They can be used to store liquids as well as solids if you choose. I like the measurements on the round bottle, as they help to take the guesswork out of cooking. Unfortunately, the rectangular bottle doesn't have these measurements. The wide mouth on the round bottle fits exactly with the output hose of Pur and most other filters. Unfortunately, the rectangular bottle doesn't have the same size of mouth, yet it is still big enough to add ice cubes to your favourite drink. The loop on the lid allows you to simply unscrew the lid and forget about it, without losing it. These bottles cost around $8 each. Overall these bottles are a great way to carry water, especially if it absolutely has to be leakproof.

Updated on Jan.23, 2002
Still loving these bottles. They've seen their fair share of abuse, and still haven't let up. They may have a few more scratches now than they did at first writing, but they're still in perfect shape. The latest rumour I've heard is that you can run over them with a bus, but of course, I haven't even tried it with a car :) I'm waiting for someone else to volunteer their bottle before I try it, just in case! I constantly throw these bottles without giving it a second thought, and they haven't failed me yet. These bottles now come in all sorts of fun new colours, but of course you can't go wrong with good old grey :)

Check out the Nalgene homepage.

Darren's Outdoor Page Rating:
Nalgene Round 1 L (32oz) Wide Mouth Loop-Top Lexan Bottle:

Nalgene Rectangular 1 L (32oz) Loop-Top Lexan Bottle:

---




Spyderco Delica


Reviewed on Sep.28, 1998
The Spyderco Delica is a great knife! It has a 9.5 cm (3¾") blade with a 8.3 cm (3¼") cutting edge, which is available in either serrated (Spyderedge), Plain Edge, or 50/50 split. Mine is a Plain Edge. The unique (and trademarked) Spyderco round hole allows you to open and close the knife easily with one hand. It also makes the knife look kinda funky! The pocket clip is a great idea. The moulded clip keeps the knife securely in your pocket, yet easy to grab. However, the old model only worked for right handed people since the clip was on the wrong side for south-paws. The new model (pictured) has an adjustable metal pocket clip,which can be moved to either side of the knife. The new model also used ATS-55 stainless steel, while the older model uses AUS-8 Stainless. I have only had this knife for a month, so I cannot comment on the ability to hold an edge. However, Spyderco has an excellent reputation in the business for blades that keep an edge. Overall this is a great knife for general outdoor use. The great plus is the pocket clip and one hand blade. This puppy will, however, set you back about $60-$70.

Updated on Jan.23, 2002
After a few years of use, my Spyderco Delica has become fairly dull. Of course, considering no knife is really expected to go that long without sharpening, I guess it's not a surprise :) The only problem is that I'm no good at sharpening knives, and therefore don't want to try it until I get some more practice. I've been meaning to practice sharpening one of my older knives on my new sharpening stone, but haven't had the time (or some such reason...) Anyway, other than being duller than when it was new, it's still in perfect shape. I generally just clean it occasionally in hot water and dish soap. I then use a toothpick and/or Q-tip to clean inside, dry it off and give it a light coat of oil and that's about it. So far, no rust, and only one small nick in the blade.

Check out the Spyderco homepage.

Darren's Outdoor Page Rating:
Spyderco Delica Plain Edge:

---




Chrismar Adventure Map Series
Reviewed on Jan. 02, 1999
I purchased one of these maps (Frost Centre Area) for one of my canoe trips. I feel that this map is excellent. The map is printed on waterproof tearproof paper that takes a lot of abuse. These maps are not just privately published copies of the standard government topo maps, they are original maps. Chrismar uses "aerial photogrammetry to create a completely original contour map showing exceptional terrain detail, vegetation, trails, buildings, water and other features. . ." This makes these maps specific for the activity. For example, the Frost Centre Map shows all portages and campsites, which most government topos don't do. The back side of the maps are full of useful facts and info. on the area and give some route descriptions. The maps in the series come in different scales to suit the use. The Frost Centre map uses a scale of 1:50 000 and a contour interval of 15 metres. These maps even allow for the use of compass without adjusting for declination. There are Magnetic North Lines printed on the map as well as UTM Grid lines. Another useful feature of these maps is the lake depth and an indicator of the fish species present in each lake. This is great for all you anglers out there! As for negative points, they are hard to come by. One annoying thing is the haphazard use of cliff markings. As well as having contour lines, cliffs are shown with a black hatching on the line. This is a great feature, but as my friends and I discovered, some of the things that aren't called cliffs on the map are definitely cliffs (a sheer rock wall that drops 20 metres into the lake is a cliff isn't it?). Some of the cliffs that are marked as cliffs are smaller than others that aren't. Even though this causes some confusion (and jokes) it is a very minor point, since the contour lines still indicate a cliff. Overall, these maps are much better than the regular government topos for recreation uses, and I highly recommend them. Cost is between $10-$15 per map.

Updated on Jan.23, 2002
Well, I can't say enough good stuff about Chrismar maps! I've now got...quite a few of their "Adventure Maps" series, and they're all fantastic! They are extremely waterproof and durable, so much so that you don't even have to put them in a map case if you don't want to. The quality of the maps is fantastic, and a lot of attention is paid to detail, from the location of campsites to the colours, which tend to be easy to interpret and pleasing to the eye.

Check out the Chrismar homepage.

Darren's Outdoor Page Rating:
Chrismar Adventure Map Series:

---




Swift Algonquin 16
Reviewed on Jan. 02, 1999
Ah......remember your first canoe??.... Well, this is my first (and only.....so far :-) canoe. Of course, this makes it very special. I purchased this canoe at one of Swift Canoe's roadshows. In it's previous life it was one of the large number of rental canoes in the Algonquin Outfitters fleet. It had been used for two years as a rental before I purchased it. This use definitely causes some wear and tear. The gelcoat has many scratches and gouges in it and the gunwales (aluminum) are a bit scratched up. Now for the good stuff..some stats.. I purchased a Goldenglass (fibreglass with Kevlar reinforcements) model which weighs in at 62. lbs (28 Kg). The same canoe can be bought in many different hull materials and the weight can be reduced to 40 lbs. (18 Kg) for a Carbon model. Here's the other vitals:
Stats for Swift Algonquin 16
Overall Length
16' (4.88m)
Water-Line Length
15'8" (4.82m)
Gunwale Width
36" (91cm)
Water-Line Width
33" (84cm)
Bow Height
21" (53.3cm)
Center Depth
15" (38.1cm)
Stern Height
21" (53.3cm)
Bow Rocker
1" (2.54cm)
Stern Rocker
1" (2.54cm)
Hull Shape
symmetrical
Optimum Load Range
375-550 lbs. (170-2580Kg)
Freeboard (with Optimum Load Range)
11" (28cm)
Weights
Goldenglass
62 lbs (28Kg)
Expedition Kevlar
50 lbs (23Kg)
Ultralight Kevlar
45 lbs (20Kg)
Carbon Kevlar
46 lbs (21Kg)
Carbon
40 lbs (18Kg)
I have used this canoe for both tandem (mainly) and some solo paddling. It performs quite well either way (of course I can only really compare it to a Grumman). It is light enough at 62 lbs. to almost not kill me... :-> and the yoke is great. I have had one small crack in the hull which is probably a result of the canoe being a rental (rough use), but other than that it is still in good shape. This canoe is mostly designed for flat water paddling, but Swift does make whitewater models as well. The company is great to deal with, and if you're cheap (like me) you can pick up used canoes, rentals and factory seconds at their spring and fall roadshows. Check out their webpage for more info. on the roadshows. To sum up this canoe, I would say that it is perfect for day trips and shorter (4-5 day) wilderness trips. New cost varies from to $1195 for a Goldenglass model to $2195 for a Carbon model. Of course used cost can vary greatly.

Check out the Swift Canoe and Kayak homepage.

Darren's Outdoor Page Rating:
Swift Algonquin 16:
---




Ray Kettlewell Modified Ottertail
Reviewed on Jan. 13, 1998
After much research into the paddle business, as well as on the recommendations of several highly regarded canoeists, I purchased this paddle. I have certainly not regretted this purchase! I purchased this paddle for use as my primary wilderness tripping and day tripping paddle. It is made of a single solid peice of cherry, and hand carved by Ray Kettlewell.



Ray is an extremely knowledgeable man when it comes to paddlemaking, with 30 years of experience in the business. I was fortunate to have the chance of attending a session on paddle selection which was held at the Canoe Expo. During this presentation, it became apparent that Mr. Kettlewell definitely knows his business. His knowledge of woods is amazing, as a result of working in the lumber industry for many years. This paddle is extremely well designed, as well as being gorgeous. The natural colour of the wood is a reddish colour which darkens with exposure to sunlight. This makes the paddle a very aesthetically pleasing piece of art, so it would be perfect for the more traditional paddler. The balance and "feel" of this paddle is exceptional, which makes it very easy to use for long distances of paddling, despite it's relatively heavy weight. The blade design allows for very quiet entry and exit from the water, and there is very little gurgling or "blade suck". This type of paddle does require some extra care however. It is wise to sand down any scratches or rough spots with fine sandpaper and coat with a good quality marine spar varnish. Also, it is wise to carry cheaper paddle as a backup, as well as for use in shallow areas, or when pushing off shore. I use an aluminum and plastic paddle, nicknamed the "war club" as my spare paddle, and it gets all the abuse of shallow rock studded streams and pushing off shore, etc. This saves a lot of wear and tear on my good paddle. This paddle costs about $80 and can be ordered online from Ray's Homepage (see below). Overall, I would say that this is an excellent tripping paddle for those who are willing to take a little extra care of their paddle. This paddle will provide a very pleasurable quiet stroke which is very efficient.

Check out the Kettlewell Paddles homepage.

Darren's Outdoor Page Rating:
Ray Kettlewell Modified Ottertail:
---
Photon Micro-Light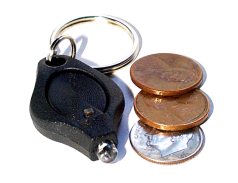 Reviewed on Jan.3, 2000
This is a cool little light. Despite reading plenty of literature about it, I was still surprised by the brightness of this tiny light. It just seems to be impossibly bright for it's size. It has a permanent home on my key chain, and since my night vision is terrible, it gets a lot of use (often to find the keyhole in the dark). This is really a "pocket flashlight", unlike most of the others that advertise this, this one actually does fit in your pocket. It is so small you'll hardly notice it is there (it literally take up about as much room as a bit of loose change). I have totally submersed it in water (probably not a good idea), dried it off and had it work perfectly. Mine has a red light, although it is available in other colours as well. The red helps to preserve what little night-vision I have, so that I can still sorta see after I turn the light off. To operate the light, just press the button in the middle of the light. To leave it on and free up your hands, just flick the little switch that holds the button down. This little switch is really my own quibble with the light.. it's simply too small.. it has to be flicked with a fingernail. However, for the amount of time I use the "continuously on" feature, it doesn't make much of a difference. Although it's not quite bright enough for walking down a trail in the middle of the night, it'll serve great to prevent stumbling around the campsite at night, help you find stuff in your pack or enable you to read in the tent. As for durability, I suspected the LED might break, although it seems that this is impossible under normal use, and the company claims it is incredibly strong. I have no reason to doubt this. Overall, this $15 (approx.) light will fit into your pocket un-noticed until a light is needed, then be able to out-shine most of the "pocket flashlights" on the market. This is also a great gift for the outdoors enthusiast who has everything, although you may want to check their keychain to ensure they don't have one of these too! (But I guess two is always better than one anyway, so you can't go wrong!)

Updated on Sept.25, 2001
Recently my Micro Light started acting strange. The light would dim and then jump back to a bright beam again for no apparent reason. Then the little "always on" switch stopped working. I was dissapointed. So I took it apart! Inside, it's quite simple. A battery is sandwiched between the two LED contacts, and some screws hold the case overtop. The switch is also very simple. What I did was carefully remove the battery (trying not to bend the contacts of the LED too much.) I then shined up the contacts by gently scraping them with a small screwdriver. I shined up the battery (not that it really needed it) and reassembled everything. Just like that, the light works good as new! Because of the very simple construction, maintenence is easy and there isn't really much to go wrong. This just makes the score for this product even higher in my opinion! The only problem of course is that the screws are small, and you need a size O phillips screwdriver to take it apart. However, the small size of the light makes up for this inconvenience! Again, I have to say it - what a cool little product!

Check out the Photon Micro-Light homepage.
Darren's Outdoor Page Rating:
Photon Micro-Light:

---
Brunton Tag-A-Long Plus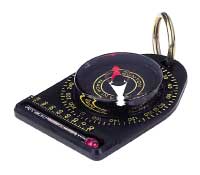 Reviewed on July 16, 2000
I bought the Brunton Tag-A-Long Plus to use as mostly as a thermometer, but the compass was a nice touch. However, on my first trip the little thermometer fell completely out of the housing, and was never seen again. This was a very disappointing occurrence, considering the main function of this was as a thermometer! I was not pleased. Further inspection revealed that the thermometer tube was simply glued in place, and obviously the glue didn't hold too well! The compass itself seems to work quite fine, although it doesn't have a rotating bezel. Overall I'm not too pleased with this purchase, because it didn't last nearly as long as it should have! I forget the cost, but I can't imagine it being any more than $10, probably more like $5 or $6. Overall quality doesn't appear to be too high, and it is a bit large if you wanted to wear it on a zipper or something.

Check out the Brunton homepage.
Darren's Outdoor Page Rating:
Brunton Tag-A-Long Plus:
---




Mag-Lite
Reviewed on July 16, 2000
The Mini Mag-Lite is a very tough little light. I have the 2 AA cell size, and it's quite bright. In fact it's very bright for it's size. This little light is made from a solid piece of aluminum and it of extremely high quality. The construction is very simple, and it's easy to take apart/put together should the need arise. It even comes with a spare bulb, which is hidden conveniently in the base of the light, under the contact spring. In this position the bulb is protected from crushing, and takes up no extra space. The entire light is sealed with rubber O-rings to keep out water, although it doesn't claim to be waterproof. I can't see anything going wrong even if it did get wet, as long as you had some spare batteries I don't think you could ruin this light. One thing I have noticed is that the new obese batteries with the testers built in are almost too large to fit into the Mini-Mag Lite. This doesn't cause a problem, although it would be nice if the batteries slid out easier. (Now that's getting picky...LOL) It's an excellent little light! Price is around $15 and includes the spare bulb. If it weren't for my Petzl headlamp, I'd still be using this light all the time. However, I do like the convenience of the head lamp, so I now use it more often than the Mag Lite.

Check out the Mag-Lite homepage.
Darren's Outdoor Page Rating:
Mini Mag-Lite:
---




Fox-40
Reviewed on Nov.27, 2000
A whistle is one of the most important items you can have on a wilderness trip. If you fall and hurt yourself, get lost in the dark (or light even), a whistle sure beats yelling to attract attention. The Fox-40 is an excellent whistle. Not as big and bulky as some of the others out there, but just as loud (if not louder). It is plastic, which means it won't freeze to your lips in cold weather. The other main advantage is that it's "pealess". Instead of a little cork or plastic "pea" that most whistles have inside, the Fox-40 has no little parts to get lost, or freeze up. The Fox-40 is a great item to have. I keep mine around my neck all the time when I'm tripping... after a while you forget it's even there. However, if you need it, it's right there! I think it's much better (ie louder) than those cheap dollar store type whistles, and it's a reasonably cheap (price wise) item.. so there's no point in trying to save money here. You can get them at many sporting goods stores, as well as most outfitters. I have had both a "Mini" and "Original" and they are almost the same. The mini is (surprise surprise) smaller, but I remember reading somewhere that it's almost as loud as the "Original". Price is approx. $5.

Check out the Fox-40 homepage.
Darren's Outdoor Page Rating:
Fox-40:

---




SealLine Products
Reviewed on Nov.27, 2000
SealLine products are made by Cascade Designs. They make Dry Bags, as well as Map cases. I have a SealLine Baja Bag 30. This is a 30 L vinyl dry bag. I have used this on most of my trips, and so far I've never had a drop of water get in. The manufacturers don't claim that it is waterproof when submerged, but I've never had to test this. The bag is made of tough vinyl and is cylindrical in shape. It has a simple, roll and clip seal, with instructions permanently printed on the strips. This makes it very easy to seal properly, and if you forget how, you can just look at the bag and it tells you! This is a great feature, although I've seen MANY people who can't even figure this out..and inevitably seal the bag wrong. I think that this bag is great, although the only drawbacks are the weight (it's certainly not light) and the fact that the vinyl tends to stick rather than slide. This becomes a pain when packing the drybags into a larger pack. However, it's a minor complain. The 30 L size should be big enough to hold your sleeping bag and clothing for most trips, although it might be a tight fit for colder trips when you have more, bulkier clothing. Price for the 30 L size is about $25.
I also have a SealLine SeeBag 5. This is a 5 L (notice a trend here? :) bag which I keep in my day pack to stash an extra layer of warm clothing. This bag is also made of vinyl like the Baja Bag, but it is thinner, lighter vinyl. It is also transparent. This makes it easy to find things just by looking at the bag. However, this thinner, transparent vinyl doesn't seem nearly as strong as the stuff used in the Baja Bag. My SeeBag has at least two small holes in it (which I haven't bother to fix due to their small size), but it has seen much less use than the Baja Bag. I feel that the durability of these bags is a serious problem. They have the same simple closure system as the Baja Bags, which gets high marks from me... but the durability issue is a pain. Price is around $10 or so for the 5 L.
Now, on to something completely different (almost). SealLine also has a line of map cases. I have the Medium size, which measures 26x37 cm (inside size). This is made of the same type of clear vinyl as the SeeBags (I think). It has a zip-close top (like a zip-lock bag, but much tougher). So far the zip-top hasn't given me any problems, as long as it is carefully closed (just pay attention when sealing it to ensure it locks tightly). It has nylon webbing along the two long sides, with D-Rings at each corner to attach it to a pack or thwart. Again, this would be a great product, except that it suffers from the same durability problem as the SeeBags. I have gone through two of these map cases in just a couple years. The first case got two small holes in the middle of the vinyl window. However, the retailer where I purchased the case took it back no questions asked and replaced it with a brand new one. The new one hasn't suffered from the same problem (yet at least). However, the nylon webbing along one side of the case has started to tear off. This doesn't effect the waterproofness, but it sure doesn't seem promising. It seems like the entire webbing on the side may eventually tear off. Price for the map case was about $15 for the medium size.

Check out the SealLine homepage.
Darren's Outdoor Page Rating:
SealLine Baja Bag 30:


SealLine SeeBag 5:

SealLine Medium Map Case:
---
Leatherman Micra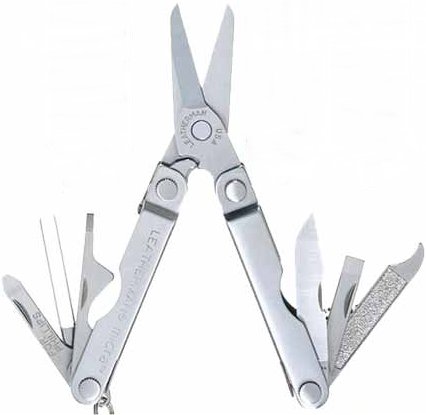 Reviewed on Nov.27, 2000
The Leatherman Micra is a great little tool. It's similar to the multi-tools you see everywhere nowdays, but is much smaller, and has scissors instead of pliers. This tool has a permanent place on my keychain, and is with me almost everywhere I go. The tool contains scissors, a knife blade, a large and small flat screwdriver, and nail file/cleaner, tweezers, flat phillips screwdriver, bottle opener, ruler and key ring. First, the scissors. They are much better than the scissors found on other multi tools and knives. They have a very strong spring loaded mechanism which works to keep the scissors in cutting position, as well as to keep the tool closed when it's folded. The scissors do not work well for cutting cleanly, like cutting paper or thin plastic. However, when cutting tough ropes, thick hard plastic (like tie wraps), or anything that you need to cut but wouldn't expect scissors to cut through these scissors work great! The knife is very sharp, although it's quite small. I save it for jobs where I need something really sharp. The screwdrivers are a little bit short to be really useful, but the small one is perfect for fixing those stupid little screws on sunglasses and such. The nail file/cleaner is just an average tool, although I don't use it enough to comment on it too much. The tweezers are great. They are much better than the little ones that are common on swiss army knives. They are attached directly to the tool, so they won't fall out and get lost in the first week. They don't grip quite as well as some better quality medical tweezers, but for general splinter picking they are ok. The flat phillips screwdriver is interesting. Instead of the standard phillips shape, the Leatherman engineers made a flat blade that works in a phillips screw. It seems to work relatively well, although I haven't used it enough to report fairly on it. The bottle opener.. I'm not too sure.. what kind of bottles need bottle openers anyway? I've yet to see a bottle that needed one....hmm... The ruler is printed along the side of the tool, and it must be opened up all the way to use effectively. The ruler is in cm (yay!) and inches, and is 12 cm long. Of course the key ring is just a simple ring.. but it also has a neat feature. If you don't want to use it, you can remove the split ring, and rotate the key ring back into the tool so that it doesn't stick out and get caught in your pocket. Simple concept, but original! Overall, the quality of the tool seems great.. I've yet to have any problems with rust or corrosion. I occasionally wash it with dish soap and hot water, use a toothpick and Q-Tip to clean out the grooves, then dry and put on a bit of oil or WD-40 to prevent rust. Price for this tool is around $30.

Check out the Leatherman homepage.
Darren's Outdoor Page Rating:
Leatherman Micra:
---




Jack Wolfskin Chic Choc 33
Reviewed on April 8, 2001
The Jack Wolfskin Chic Choc 33 was originally purchased as my canoe tripping "day pack." However, it is now my full time do-everything pack. I use it every day at school to carry books, and also use it when I go skiing, paddling or whatever. It's a fairly simple pack, with no hi-tech features like many of the new packs. It has one large main compartment (approx 30 L) with a large, study zipper opening. There's also two outside zippered pockets on the front, and a flat pocket inside. The main pocket is quite large, and so far has carried everything I need it to. The two front pockets are useful for carrying smaller items that you need to find quick. One of the more unique features of this pack is the inside, flat pocket. The area behind the padded back and the large inside pocket is zippered off, so that you can store flat things without them getting crumpled. I've found this to be great for carrying papers and books, etc. The pack also has two reflective strips on the front, which is great for biking, as cars can see you from a long way away. One of the best features of the Chic Choc is the suspension system. Although it's not a large pack it has very comfortable shoulder straps. They are much different than most, as they "wrap" your shoulders at the top much more effectively than standard day packs do. I find that this makes the pack quite comfortable to carry. I have had this pack for around 4 or 5 years now, and the durability seems good. It doesn't get much hard use, but it gets constant use. So far the fabric seems to be holding up very well, and the pack looks almost new still. One complaint is that the rectangular shape doesn't carry loads too well. For example, carrying something like a heavy binder is not the greatest, because the weight of the binder makes the bottom of the pack sag. However, when the pack is full, this doesn't seem to be a problem - the pack keeps its shape much better if it's full of bulky stuff. Overall, it's a decent pack for school use and some short day hikes. When this pack dies, I'll likely look for something a little more technical to carry loads more comfortably, but for now the Chic Choc does quite nicely. For a price of around $50 (that's from memory so may not be accurate) it's quite a decent pack.

Check out the Jack Wolfskin homepage.
Darren's Outdoor Page Rating:
Jack Wolfskin Chic Choc 33:

---
Please go to Page 2 for more of my product reviews!