LESLIE M. FROST NATURAL RESOURCE CENTRE AREA

A map is available from Chrismar Mapping. Check out my review of the Chrismar Adventure Map Series.

Well, this was a special trip, because it's the first trip that I have taken without an adult leader. It was just me and three of my closest buddies. Scroll down to read a journal of this trip.

Aug. 16, 1998
Leave Woodstock at 6 a.m.
Drive 401, 407, 400, 11, 60 to Algonquin Outfitters at 10 a.m. to pick up rental canoe
Shop at Algonquin Outfitters until 12
Drive Hwy. 35 to Little Wren Lake Access Point at 1:00
P 85 m (carryover) around dam into Raven Lake
P850 m into Plastic Lake
P1150 m into Sherborne Lake
Camp on site UTM 722044 (Site #67)

Todays portage distance = 2085 m
Total portage distance = 2085 m
Todays paddle distance = 8 Km
Total paddle distance = 8 Km


Aug.17
P470 m into Big Hawk Lake
P225 m into Clear Lake
P200 m into Red Pine Lake
P30 m (carryover) around dam into Nunikani
Camp on Site UTM 775067 (Site #27)

Todays portage distance = 925 m
Total portage distance = 3010 m
Todays paddle distance = 17 Km
Total paddle distance = 26 Km


Aug.18
P 195 m around dam/falls/rapid into Big Hawk Lake
Un-marked carryover at UTM 772052 (may be able to avoid this with higher water levels)
P 70 m (carryover) into Noname Lake
P 590 m into Summit Pond
P 330 m into Sherborne Lake
P 1150 m into Plastic Lake
P 850 m into Raven Lake
P 360 into Gun Lake
Camp on site UTM 702081

Todays portage distance = 3545 m
Total portage distance = 6555 m
Todays paddle distance = 14 Km
Total paddle distance = 40 Km


Aug.19
The original plan was to camp on Jean Lake, but we turned around at Knife Lake after finding the swampy area between Knife lake and Jean lake unpassable.
P 60 m (carryover) around Brandy Falls
P 85 m (carryover) into Ernest Lake
P 65 m (carryover) around falls into Minis Lake
P 40 m (carryover) around falls into Knife Lake
Decided to return to Gun Lake because of swampy conditions between Knife and Jean Lake
P 40 m (carryover) around falls into Minis Lake
P 65 m (carryover) around falls into Ernest Lake
P 85 m (carryover)
P 60 m (carryover) into Gun Lake
Camp on Gun Lake site UTM 706087 (Site#93)

Todays portage distance = 500 m
Total portage distance = 7055 m
Todays paddle distance = 12 Km
Total paddle distance = 52 Km


Aug.20
P 360 m into Raven Lake
P 85 m (carryover) around dam into Little Wren Lake
Arrive at Little Wren Access Point by 12 noon
Return to Algonquin Outfitters on Hwy.35 to drop off rental canoe
Drive home by 60, 11, 400, 407, 401

Todays portage distance = 445 m
Total portage distance = 7500 m
Todays paddle distance = 5 Km
Total paddle distance = 57 Km

Journal:

This is a journal that my friend Phil wrote on this trip. Anything you see typed in italics are comments that I have added to Phil's journal.

Canoe Trip Journal
August 15-20 1998
by Phil Biloski

Now this trip is special, our first trip completely on our own. Just the four of us, Darren, Mike, Jim and myself on a five day four night canoe trip in the beautiful Leslie Frost Area just south of Algonquin Park.
Where should I start well I guess the best place is Saturday. Well the four of us had all ready bought the groceries the night before at Food Basics. We had only spend $160.00 and had lots of food (too much in fact, as we found out later). Then the four of us went shopping to pick up some more GORP products and a journal. We all went to Darren's to pack the food and make our GORP. When we finished, we left it at Darren's and all went home. Well the next day Darren had to work till 2:30pm so I just got all my stuff together. When he got home I went over to help pack the canoe packs. We found out that we had to re pack the olive barrels to make everything fit. After that we portaged the three packs and Darren's canoe over to Mike's to pack the Suburban. Mike was just finishing washing it and we decided to have supper and meet back at Mike's later. I went home and Dad and Trixi thought it would be nice if we went out for Chinese. So when I got back I quickly ran over to Mike's.
Jim was already there and we all talked and joked around while Mike packed his stuff. We ended up watching a movie called Uncle Buck and flipping to Exotica hoping to see some nudity but we kept missing it. Around 12:00 Mike goes to his room to sleep and Jim, Darren and I talk till 3:30am. It's kinda funny because we were all up again at 5:00am to pack the truck and be ready to leave at 6:00am. You should have seen Phil beating on the alarm clock at 5 in the morning.....he ripped the plug out of the wall!
But to my surprise Mike's parents where ready to go at 6:15 and with Mike behind the wheel we where off on an adventure of a life time. We where quickly on the 401 heading towards Toronto the roads where quiet until we came to an accident that stopped us for 10 minutes. Along the road we had to stop (two or three times) to tighten the canoe down but other then that we were on our way. We only had to stop one other time at Barrie to stretch our legs and go to the washroom.
We arrived at Algonquin Outfitters at 10:16am. It was an amazing store geared to people like me and my friends canoeing, canoeing, canoeing everywhere you looked. I was in charge of getting the canoe while everyone else looked around. I only had time to run upstairs to buy a great life jacket. It only cost $113.00. Darren bought a cool Spyderco knife and Jim bought a Swift paddle. Oh and the rental Canoe is a great white Algonquin 16 made of Kevlar.
We left Algonquin Outfitters at 11:00 and were at the put in by 11:30. We started at Little Wren Lake and decided to have lunch, so we had peanut butter and jam sandwiches. We were packed up again and ready to go by 12:15pm. We waved goodbye to Mr. and Mrs. Proper and started the best canoe trip ever.
We paddled to our first portage which ended up being a carry over into Raven Lake. The water is so clean and the weather is so nice we were all just flying high. We then paddled to the first real portage, a 850m into Plastic, our first real test and we had a hard time. We quickly learned that the trails aren't maintained and that some of the put in's are hard to find. We found a winter portage that got us mixed up because it ended and we were lost. Mike and Darren found the right portage (by following a road until we met the other trial), and we were off. The portage was steep and rocky and had exposed roots and fallen trees, all the fun things people like to see on a portage trail. We had to take a couple breaks but we got it finished okay.
The next portage was the killer, the longest portage I had ever done and it was steep. We paddled 5 minutes from the last portage and we were there, we hadn't recovered from the last one and we were starting the super hard portage. Everything bad the first one had this one had worse, steeper, and rocker. We started out and found that we had to stop and take a break every 10 minutes. We weren't getting anywhere fast, and it was getting very frustrating. Our portaging system sucked, we where trying to carry everything at once and where leaving things behind (by mistake). So after an hour of torture we decide to scout ahead, so Jim and I checked it out and found that we were just half way, so I suggested that we take all the packs to the end of the portage and then all of us go back for the canoes. The new system worked and we were finished the portage.
It had unfortunately taken a great deal of pain and an hour and 45 min. to do. When we got on Sherborne lake, we found the first camp site we could find and unpacked. We decided to camp out side and just put up the tents in case of rain. Mike made hamburgers while Jim and I cleaned up some granola that had broken open in the olive barrel. The Hamburgers where good and after supper the four of us went swimming. We started out just diving off shore but we soon found ourselves swimming to an island with our life jackets on. I think that we all had to do it to say we know what we are doing and we don't have to follow Mr Brown's rules.
Once on shore the four of us said "Bed Time". We were extremely tired. It could have been the 2 hours sleep the night before, or the long portage or the swim but we couldn't move. We only had to hang the food. Not easy when the food pack weights 90 pounds and the trees don't have strong branches. First we tried having Mike throw the rope over the branch it didn't work so I climbed the tree and dropped it over. It took all four of us to push and pull it into the tree but it was fun. That night I slept okay only getting up to put out the fire and go to the washroom.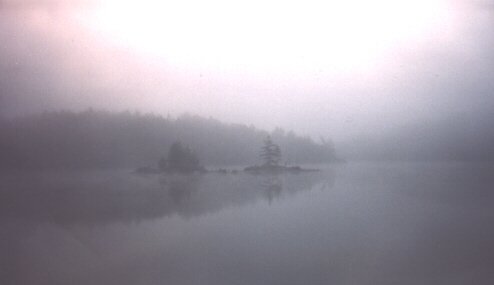 Foggy Morning on Sherborne Lake


The next morning was nice there was fog on the water but I was still up at 6:00am. I got Darren up and we got the food pack, and fire wood. The two of us started a fire while Mike and Jim tried to pull themselves out of bed. Mike got up and started cooking the bacon and eggs. It took Jim an hour to get up and we had already started eating. The bacon was good and the eggs where okay. Jim complained that he like his bacon cooked. But everyone else thought it was fine. Crispy bacon? who wants that? :-> We cleaned up and packed up and where ready to go by 8:30am. We got on the water and the weather was great.
We started paddling Sherborne Lake and noticed that no other canoeists were up. At the end of Sherborne Lake there is a swampy 470m portage that we had to do. We were lucky because we could paddle a little farther and avoid about 150m. On the other side of the portage was a nice beach to put out and we saw our largest paddle of the trip, Big Hawk Lake. So we set off towards Clear Lake portage with Mike and I in the rental and Darren and Jim it Darren's Canoe. The Paddle took about an hour and a half and we found a nice 225m portage into Clear Lake. After the portage it was about 11:00am and we decided that at the end of the 200m portage into Red Pine we would stop for lunch. At the beginning of the Clear Lake to Red Pine portage we met a family swimming. They were very nice and gave us a little info of the paddle ahead. They said that we would paddle right past their cottage. They then packed up and boated away while we sat and ate. Lunch was subs and it was very good. We took our time and relaxed we had no one telling us what to do. I ate slowly and just had a good time.
After lunch we paddled Red Pine Lake we kinda got lost but followed the shore. We ended up passing the peoples cottage and they waved. We where on are way to the Dam. The people had also mentioned that there was a small set of rapids at the other end of the dam. When we got to the dam we quickly checked it out and decided to line the canoe through the rapids. It was going to we fun. We carried over the dam and put the canoes in the water the water was warm and we started pushing the canoes down the river. When the water got deep enough we would jump in and ride the current. But when the water got shallow again we where all happy to jump out and slosh around in the water. At the end of the ride we parked the canoes and decided to go back up and drift down the rapids in our life jackets. Now that was fun. Jim swam all the way up to the foot of the dam against the fast current, and floated down from there. I don't think any of the rest of us could have done that since Jim even had troubles against the current and he is a very strong swimmer. We all laughed the whole way and got a couple of bumps and bruises but we were all fine.
After that we paddled on Nunikani which wasn't the prettiest lake on our trip because it was controlled by two dams (one on each end of the lake) that some how killed a lot of trees. But when we got farther down we found that it wasn't that bad. Before our trip Mr. Brown had told Darren that the island site on Nunikani was very nice. Well unfortunately it was taken so we had to paddle back to a ledged site that at first didn't look that great. But when we looked at it again it was awesome. The ledge was completely safe to dive off of and the canoe area was "wheel chair assessable". (There was a very shallow rock outcrop where you could pull the canoes up to and unload). This also made for a great spot to climb out of the water so that we could jump off the ledge again! Jim and Mike quickly went crazy diving and jumping while Darren and I went out to try some solo canoe over canoe rescue. The wind picked up a little but it was still fun. At one point after I had flipped my canoe and Darren and my canoe started drifting down the lake faster then I could swim. But Darren found a way of paddling both canoes solo it was quite impressive. I looped my leg under the thwart of the other canoe, and very awkwardly paddled both back to where Phil was.
After an hour of swimming we all relaxed for a friendly game of cards. It didn't last long because Jim and Mike went back swimming and I went exploring. Not much to see but it was something to do. When I came back we noticed that the clouds where rolling in and that we where going to get some rain. So we started getting things put away we started a fire hoping we could get dinner finished before it hit but he couldn't so we all ran to Mike's tent and had a 45 minute nap. When the rain stopped Darren and I made supper on the stove. We started warming the chili and had to stir constantly or it would burn. Rice was made and we ate. It was good but there was tons. We had to start a fire so we could start burning the leftovers. Now that was the hard part. All the wood was wet and it took us a long time before we could get anything to burn. Jim and Mike where back in the water and Darren and I cleaned up. While we were boiling water Mike decides that we wants coffee so he just grabs a cup full of the boiling water but the problem was I had already put soap in it. He complains that it was butt coffee and we all start laughing.
When it started to get dark we relaxed and talked about girls and everything else. Around 10:30 Darren and I decided to go to bed. Mike and Jim stayed up a little longer so that they could play a trick on us. Darren and I where just talking (in the tent), when all of a sudden we hear Jim yell "Cannon ball," and we hear a big splash. Darren and I started laughing and they kept going. We really believed that he had jumped again, this time fully clothed and in the middle of the night. Jim yelled "Get you flash light I can't see where I'm going!" and Mike would yell "Swim this way." They kept it realistic because when they passed our tent Mike said, "your not bringing your wet clothing in my tent". It turned out in the end, that Jim had just thrown a big rock into the water after he yelled "cannon ball!" It was quite interesting.
The next morning we got up to find a nice but some what cold morning. Darren and I boiled some water on the stove for hot cereal. While Jim and Mike got out of bed. The cereal was good and it made us feel better. We packed up and were on the water at an impressive 8:00am. We paddled the rest of Nunikani to the Dam/Fall/Rapid portage. It was amazing the water was clear and it rushed out of the dam down the falls and through the rapids it was one of the most spectacular portages I have ever done. After we got our stuff over the portage we walked up the side of the rapids to get a great view of the falls. Jim and Mike took some great pictures I sure hope they turn out. (In fact they did, here's the best one.)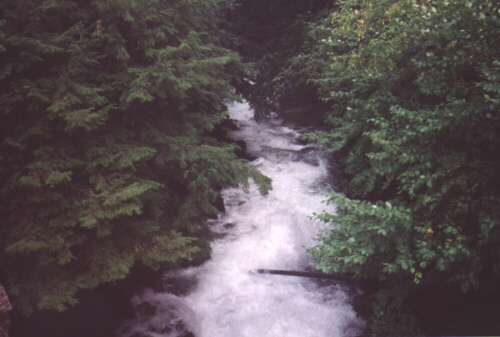 Falls between Nunikani and Big Hawk Lake


After the portage we found ourselves on a small river that ended with an unexpected carry over into Big Hawk Lake. (This is not marked on the map, and you may wish to pencil it in. UTM 772052. Also, this may be simply a shallow spot with higher water levels, and you may be able to paddle right over it.). After the carryover we paddled the north arm of Big Hawk Lake to another carryover into No name Lake. On the other side of No Name was the first difficult portage since the 1150m into Sherborne. This Portage was 590m into Summit pond. The portage was quite steep, with many fallen trees over the path. We quickly learned why they called it Summit Pond, because it was at the top of a really big hill. When we got to Summit we get ready for the 330m back into Sherborne. This was straight down it isn't that easy with a canoe over your head as Jim found out when he jumped off a ledge at the end of the portage. We saw another group of people and a nice looking girl. Hey, it's definitely a news worthy event on a canoe trip consisting of four guys....
Well back on Sherborne and on our way back to the horrible 1150m portage. We decided to carry our packs to the top of the hill, go back for the canoes and have lunch at the top. Well it went quite well and we where all so much stronger now. At the top we unpacked the food and had pita's and cookies. After Lunch we packed up and went to finish the portage. We saw another pair of canoeist and found a way to make fun of them every time they passed us. We got to the end of the portage and found that we had passed the half way point on the first trip and that we had left very little portage for after lunch. It was amazing how easy this portage was the second time! With a little bit of sleep and two days of paddling behind us, we were much stronger now.
But that was okay because we still had to get out of Plastic. And that meant that we had the 850m portage back into Raven. Now this was very amazing. Darren and I were going our merry way, switching a couple of times when it started to hurt. But when we got to the end we found out that Jim had carried the canoe the whole way by himself. I was impressed and amazed. I don't think I could have done it.
After paddling Raven, we started our last portage of the day, a 360m into Gun which was very easy. I carried the canoe the whole way but it was flat and there was a board walk for 100m. When we got into Gun Lake we paddled to the island to check out the campsite. It was bad so we paddled to the site we had passed on the way to the island and stayed there. It was nice and we were protected from the strong wind that came up. We made camp and Darren and I went to work repairing Mr. Brown's tent. The shock cord in one of the poles had broken. We had broken the top pole when we were taking it apart that morning and knew that we had to fix it. With a little wire, rope and patience we got it fixed. After that, we watched as Jim climbed a big dead tree. This was quite funny because when he got up there we thought that all this wood was great fire wood so he started braking all the limbs off of the tree. We said that if he did that how was he going to get back down. He realized that we were right and stopped.
That night we had Mac and Cheese and baked potatoes, it was good. A little messy but very good. We stayed up and talked and we had tea and coffee, without soap this time. Then we all went to bed. The next morning I was up again at 6:00 and out making breakfast it was simple hot cereal and bagels.
We packed up and where on the water at 8:00am. We paddled to the end of Gun on clear, clean water and looked for the portage. Well there wasn't one. We found our first swamp of the day. We dragged, pushed, pulled, paddled and waded are canoes through a messy swamp and at the end we came to Brady falls. Falls? I didn't see any fall. We carried over in to another swamp area that would lead to a carryover into Ernest Lake. Well it was okay but still swampy. To tell you the truth, Ernest was a shallow mud whole. We then paddled the swamp to another falls. This was another question. There was no falls but this time we knew why and Mike, Jim and I where going to fix it. First we destroyed the beaver dam. Then we removed the rocks, sticks and mud that clogged the path of the water. After a hour at the newly named Proper falls we decided it was time to get going. We carried over the canoes. There was only one problem. Jim slipped on a wet rock and fell into a deep pool of water. He was out like a flash pulling his non waterproof camera out of his pocket. We all laughed as he strips down to his boxers to let his clothes dry. We all finally got into the boats with Jim half naked in my bow. We where off on Minis lake towards the next falls carryover. Well this one had a beaver dam too but it was big and we were already behind schedule so we decided no to rip it apart.
We find that Knife Lake is no better then any of the other lakes that day, and at it's end we couldn't find the Black River. The outlet was all swamp, and we were quite sick of swamp by that time. So we had to decide what to do. We all decided that we should head back to Gun lake and make camp there. We knew that we had to go through all that crap again but we had no choice, there was no Black River, no Rapids and no way to the campsite on Jean Lake. We got back to Proper falls and had lunch. We ate stoners and lots of Granola Bars and cookies. We got back to the portage out of Ernest and found that the put in was a little slippery. I was first. I started slipping into that water so I sat down and put the canoe on my lap. Everyone laughed. Then Darren, putting his day pack on his back started to slide into the water. But he couldn't stop he had to swim back I was just laughing. OK, here's my story. The rock shore sloped right into the water, and was basically a smooth curve. It was covered in green slime which made it quite slick. I walked out about half a metre from shore to throw my day pack into the canoe. I turned sideways, and felt myself slipping down the rock! Soon I was up to my neck, so I let go of the canoe and swam back to shore. The funny thing was that we had all laughed so hard when Phil had slipped (with me laughing more than anyone of course), and now I had slid right in too, only I went in much further than Phil did! On that fun carryover we had another fun moment Jim was on the end when he trips and takes a nose dive into the canoe. He landed right in the canoe and told us to keep carrying so that he wouldn't have to do any work. Of course that's not too easy for three people to carry a canoe, two packs and Jim! Wow it was fun.
At the end of the carryover's and back in the swamp that started this day we just didn't care anymore. We just tramped through the mud on our way to Gun lake. When we were back in the canoes, we see Darren say something about Saugeen and he jumps out of the canoe. This is one of my favourite stories, and I knew that Mike had been on the Saugeen River trip with me, so he knew all about it. On the Saugeen trip, we had a kid that really didn't want to canoe. In fact he wanted to run away from camp. So one day as we were paddling down the river, he simply stood up in the bow of the canoe and jumped out. So, since I was already hot and dirty, I decided hey, what wrong with that?, so I said to Mike "Hey, remember that kid on the Saugeen?" and he knew exactly what I was saying as I stood up and jumped out of the canoe fully clothed. Jim thinks about it and follows. Mike and I look at each other still sitting in the canoe wanting to follow suit but knowing that we couldn't or none of us could get back in the canoe. Darren and Jim jump back in and we paddle back to the old site. When we get there we find a bunch of old ladies were there. Thinking that they where staying there, Jim and I stayed back both because Jim was three quarters naked and that we just had no need to go over. Mike and Darren were a different story, since Mike had forgot a pair of shorts at the site the night before. When that was all over we paddled over to the camp site on the other end of the lake. We got ashore and the first thing Jim and I did was go for a swim. Darren and Mike set up the tent, got the food together and set out their wet things to dry. After a couple of hours of R and R I get in the mood to set up Jim and my tent. I get my clothing on the line and start on my journal. Darren and Mike cooked dinner and Jim had a nap. Supper was great, spaghetti, meat sauce that worked well considering that it was from dehydrated food. And garlic bread which I made. We only had one problem when I was trying to get the stove to work properly, it flared up and burnt all the hair off my arm. Every one got a good laugh. Jim also had a little trouble he had fallen asleep in the sun and was a little burnt so he tried to sooth the burn by adding some sun screen, the problem was that he put on way to much and then he couldn't get it off because it was waterproof. It was funny. Jim and I did dishes and then we just sat by the fire. I tried playing a trick on every one I soloed over to the other shore, picked up a big rock and dropped it in the water trying to make it sound like I had fallen in. It didn't work and I felt dumb. That night we stayed out a little later. We star gazed for a while then all went to bed. We all agreed to sleep in. I knew that I couldn't and promised that I wouldn't wake any one. Jim and I went to bed and talked for a while. I put my toque on for warmth and slept well.
The next morning, just as I thought, I was up at 6:00am. I quietly got dressed and went outside. There was fog on the water and everything was peaceful. I made my way over to the kitchen and got the stove, pot, tea, sugar, cup and spoon and went over to a rocky ledge to boil some water. I did my best to keep quiet while I made myself a large tea. I then went to the East side of the campsite to watch the sun come up. I just relaxed till 9:00am when I figured that they had slept in long enough. I started a fire and was getting ready to make pancakes. I woke up Darren and Mike and then Jim and we all decided that pancakes were too much trouble so we just ate bagels. We packed up and were on are way by 10:30am. We paddled to the portage which was easy, the only problem was that the wind was quite strong and we had to paddle hard. We got to the dam carryover and got in to Little Wren easy. Mike and I started singing "We are the Champions" as we paddled toward the put out.
Mike's parents were already there fishing when we hit land. We starting packing the truck. Darren, Mike and Mike's dad loaded the canoes on the truck while Mrs. Proper, Jim and I packed the inside of the truck. We were done in half an hour and where on are way to Algonquin Outfitters to return the canoe. When we got there it was my job to get the canoe in while everyone went shopping. I got done quickly and got a chance to buy a Mohawk paddle (aluminium). Darren and Mike bought water bottles and Mark (Mike's Brother) bought a stuffed animal. We were then back on the road heading home. There was two stops left, Barrie for Wendy's, and on the 407 to go to the washroom and tighten the canoe.
We got back to Sweaburg at 4:00. After unloading Mike's parents stuff off at his house we all went over to Darren's to organize our stuff. We unpacked the food and split it up between us. Then we sorted out the equipment which was ours and what was the schools. Mike drove Jim home and I stayed at Darren's helping him air out the tents and the packs.
After the cleaning was finished I took two loads to get my stuff over to my house. I dropped everything off and had a shower. After that sleep. The last couple of days of my vacation we spent recovering, and relaxing thinking about the events of the last five days and how much they meant to me. Thinking about the lessons learned and all the fun I had with my friends will always be special. I will never look at my friends the same way. We are closer because we had to depend on each other for our basic survival, like food, shelter, transportation and just a good time.

Darren's Thoughts
Well, we're on the road home to take Mark to his soccer game. My mind is going over the events of the last five days. What can I say? Even the bad things were good on this trip. The P1150m was nasty the first day, but it got us prepared for the rest of the trip. The next time it was easy. As Gord Downie of the Tragically Hip says "Adolescents, in essence, is all about trust." Well, we learned to trust what we think. If it sucks, we don't have to do it. The swampy portages/carryover's/hip wading got a little bit old, so we decided to turn back. No one cared that we didn't get to Jean Lake or run the rapids because it was still fun. Things to remember for next trip? Well, more hot cereal, less jerky, maybe no stoners because we only ate half of the package. I like the fact that we could do what we wanted to do instead of following Mr. Brown's rules. Our own ideas are always better suited to our needs and capabilities. It's nice to be able to stop when and where you want, and get things done more efficiently. I don't really know what else I should write here but I guess I'm done. One more thing......What the HELL does it have to look like to be called a cliff??!!
Lets do the Mississippi next year

Darren

Phil's Final Thoughts
Well this trip had been in the works for four months. Darren and I planned and prepared for a summer trip, and now that it is over I'm amazed. I had a great time. I had never experienced a trip like it. It is hard to believe that the trip really happened. Between the four of us there was some serious obstacles to over come but in the end we all had a wonderful experience without the help of parents or teachers. I think that if I had to do it over a again the only thing that I would have changed was the fact that we only had 5 days and 4 nights. I have never been on a longer trip and I want to experience a trip that lasts a little longer. I will never forget this trip because it has shown to us that we can safely depend on each other and still had a great time doing whatever you want. In a group of friends there is no need for rules or regulations you just have fun. And that's what friendship and canoeing is all about. I will never quit having fun and I vow that I will never stop canoeing.
And I think that by hell or high water there will be another summer trip next year.

Phil