ROCKAWAY LAKE ROUTE

This trip was my very first solo canoe trip, and it was a great experience. This page contains a lot of information about the route - links to other sources of information, maps, pictures, and my journal of the trip. Hopefully it'll be helpful to you!

May 17, 2002
Drove to Livingstone Lake access point (Algonquin Access Point #14)
S through Livingstone Lake
P 260 m to Bear Lake around dam
S through Bear Lake to Kimball Lake
NE through Kimball Lake to Aubrey Island
Camp on Aubrey Island, UTM 682230E,5023760N [Based on NAD 27, Zone 17N])

Todays portage distance = 260 m
Total portage distance = 260 m
Todays paddle distance = 8.0 Km
Total paddle distance = 8.0 Km


May 18, 2002
NE through Kimball Lake to start of "The Golden Staircase"
P 2780 m ("The Golden Staircase") to Rockaway Lake
NE through Rockaway Lake
Camp on site UTM 686750E,5029710N

Todays portage distance = 2780 m
Total portage distance = 3040 m
Todays paddle distance = 5.3 Km
Total paddle distance = 13.3 Km


May 19, 2002
SW through Rockaway Lake
P 2780 m to Kimball Lake
SW throught Kimball Lake
N through Bear Lake
P 260 m to Livingstone Lake
N through Livingstone Lake to Access Point

Todays portage distance = 3040 m
Total portage distance = 6080 m
Todays paddle distance = 13.3 Km
Total paddle distance = 26.6 Km


Maps & Info:
The Adventure Map: Poker Lake Area by Chrismar Mapping. (Check out my review of the Chrismar Adventure Map Series.)
The Adventure Map: Algonquin 3 Corridor South by Chrismar Mapping. (Check out my review of the Chrismar Adventure Map Series.)
Federal Topo Map (1:50,000): 31 E/07 Kawagama Lake (See it on Toporama!)
Canoe Routes of Algonquin Provincial Park by the Friends of Algonquin Park, ISBN 1-895709-30-X (Download it!)
Callan, Kevin. (1993). "Cottage Country Canoe Routes" Boston Mills Press, ISBN 1-55046-071-4
Callan, Kevin. (1997). "Brook Trout and Blackflies" Boston Mills Press, ISBN 1-55046-211-3
From "Canoe Routes of Algonquin Provincial Park" by the Friends of Algonquin Park


Here's an email I received on Sept.11/02, and I post it here in the hopes that people read it and respect the rights of the property owner.



Dear Darrren;

As I was browsing your well thought out web site and after reading your books, I would like to inform you that Aubrey Island in Lake Kimball is private property. Aubrey Island has been privately owned since 1998 and presently I have bought the pretty island.

We realize that the small island lies along a canoe route into Algonquin Park and that it has been, for many years, a camping stop-over for transient campers.

Indiscriminant and constant useage has resulted in abuse, overcamping, and vandalism of the island. This is quite evident by the felling of trees for firewood, clearing of the central area for camping, and most important the unplanned and inadequate disposal of human and domestic animal waste. The island is presently littered with human excrement and garbage.

We the owners are presently trying to rehabilitate and clean the island. We are presently trying to prohibit any camping and or any useage of the island by any transients. We are also trying to replant the central part of the island and useage of the island would definitely compromise our efforts.

We are pleading for help to stop people from using the island and allow the island to self heal. Your help would be greatly appreciated.

Patricia and Maurice Rosso
(Sent Sept.11/2002)



Journal:

May 17, 2002
2:00 pm

Well, here I am, camped on Aubrey Island on Kimball Lake (See letter above about camping here). It's 2 pm. I got up this morning at 5:30 and was on the road by 6:01 am. I had loaded the car last night, so I just drove away this morning. It took me exactly 4 hours to reach Dorset via 401, 400, 11, 117, then 35 to Kawagama Lake Road, the Livingstone Lake Road from there. At Livingstone Lake the parking situation is not great. I parked on the right side of the road, but it's not a great spot.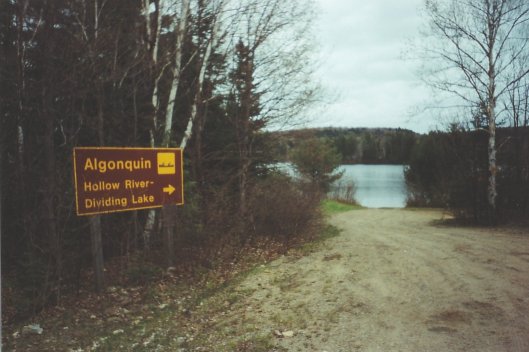 Algonquin Park Access Point #14 (Livingstone Lake)

I ate the sandwich that I made last night, and some cookies and juice. It was 10:30 when I got underway. I paddled Livingstone to the portage in about 30 minutes. At the portage however, I spent 30 minutes because I didn't want to trespass (there are no trespassing signs all over the place), and I wasn't sure where the trail went. It turns out that the portage goes right beside the driveway of the cottage and it's easy to see. It's a 260m, but I put in before the end, so it was likely more like 230m or so. Bear Lake took about 30 minutes to paddle and I was soon at Kimball. I checked out the campsite in the narrows (UTM 680300E,5022500N) but it was very poor - rocky and no good spots for a tent. Quite dark and gloomy also. So I continued on to a site at UTM 681500E,5023500N and took a look around. It was ok, but I wanted to make more progress, so I decided to check out Aubrey Island, and go back if it was no good. However, here I am, so... There's also a site directly beside the island on the North shore. As I was setting up camp, two canoes came into it. One tandem boat had almost no freeboard at all. The solo boat was piled up above the gunwhales with gear (beer?) and the solo paddler was having a hard time. They are quite loud - yelling all the time, so I may regret staying here. However, I'm not sure how long the portage will take, so want to do it in the morning while I'm fresh. I may just camp here both nights and day trip to the pines - that way I'd only have to single carry the portage. We'll see - I'll decide tonite. If the group next to me is really loud, I'll probably leave. More later...

7:00 pm

Well, so far the weather has co-operated. It was quite warm (18oC in the sun) and the sky is mostly blue with some fluffy white clouds. Hopefully it'll be like this tomorrow! The wind was at my back on Livingstone this morning, but not very hard. Now, it's from the East, and gusty. Hopefully it doesn't get too windy overnight - my tent is quite exposed where I set it up (hoping to get some morning sun!). The tent is kind of small - not sure how anyone could call that a 2 person tent - I can hardly get it arranged well for one. I doubt you could get 2 ThermaRests in it! My sleeping bag almost touches both ends - without me even in it! I hope it doesn't rain, because I'd probably get wet from touching the sides! The campsite has been very well used - there are two fire pits, and a picnic table. All undergrowth is dead.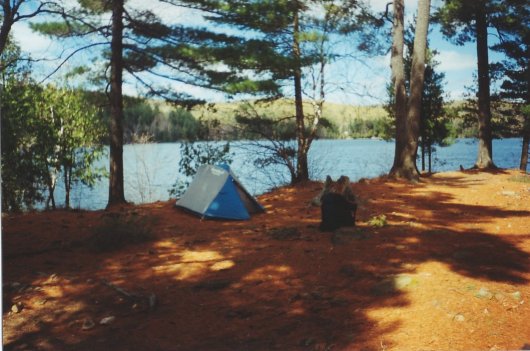 My first night's campsite on Audrey Island (Kimball Lake)

The solo paddler from the group beside me came over to ask if I would be here all weekend. Apparently they come up every May 2-4 and camp on the island. Oh well! I think I'll probably leave here tomorrow though (depending on weather) so they can have it then.

Supper today was CousCous, cheese, pita, pepperette, dried fruit and cookies. Easy to make, but I brought too much CousCous. Next time bring less than one cup. (This time I had more than one cup). Matt's Primus stove worked perfectly - it's way easier to light than the MSR's.

I saw a pair of loons swimming by earlier today, but that's it so far for fauna. Oh - and some kind of small bird that flies quickly along the surface of the water - I presume catching insects - has made an appearance several times as I was sitting by the water.

So far, my plan for tomorrow is to head out early and camp on Rockaway. After I get camp set up, I'll check out the pines - maybe take the canoe too and go into Minky and Dividing - or maybe just walk back from camp. So that's the plan if the weather is decent. If it's raining hard or really windy, I'll just stay set up here and just go into Rockaway for the day and check out the trees.

There's a sizeable pine right here on my island site - but hopefully not near as big as the giants. This one is about 60-70 cm diameter. Not bad, but certainly not a giant.

8:45 pm

I decided I would sit and watch the sunset, so I found a nice rock on the West side of the island and settled in. I sat there for about an hour and a half before it was even close to sunset. I didn't get much of a colourful sunset, but I didn't really wait until dark either - just until the sun went over the hills. In fact, it's still light enough to write this now (and I'm in the tent.)

As I was sitting by the water, a pair of loons swam just around the corner and just far enough so that I could get them in a picture with the setting sun - then they turned around and swam away. Amazing!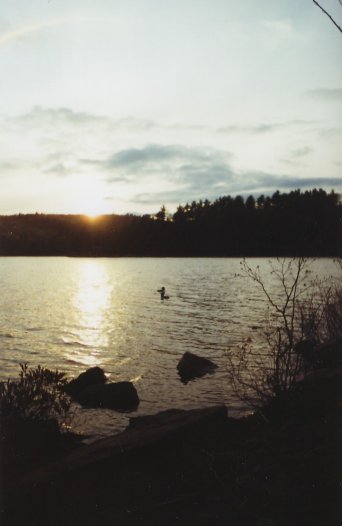 Sunset with Loons on Kimball Lake


The clouds to the West, white and wispy now, are being forced upwards by dark low clouds coming in from the East. Hasn't started to rain yet, but that doesn't seem like a good sign. However, it created a fantastic effect which made the sky seem very spherical - I really felt like I was standing on a sphere, which is not how I usually see myself. Maybe because it's hard to see these sorts of things when in the city?

It think it's getting cooler, but it's hard to say now that I'm in my sleeping bag. Last time I checked it was 8oC.

The group across the water is quite quiet now. They really only made a lot of noise right when they showed up. Hopefully they stay silent tonight.

I took a picture of myself as I noticed how well I could see my reflection in the viewfinder lens. I was all bundled up waiting for sunset - I'm not sure why I feel so cold when it's 8oC, I was wearing my maroon fleece jacket, my blue fleece shirt, MEC T-Shirt and my wind jacket - normally I don't wear that much in the middle of winter.

May 18, 2002
3:49 pm

Last night I slept very well. Shortly after I finished writing I blew out the candle and I don't remember falling asleep - I was probably asleep in a couple of minutes. I woke up once at 4:30, but fell back asleep again until I woke up at 5:30. It was quite light out, so I packed my sleeping bag, etc. and got up.

For breakfast I had oatmeal in a bag, dried fruit and some water. I was totally packed and on the water by 7. I took 20 minutes to paddle to the start of the "Golden Staircase" and fill up my water bottle before the portage.

When I woke up, I was pleased to see that I was perfectly dry - it hadn't rained at all during the night. In fact, it's been dry all day (so far!) And the temperature is about 8oC currently.

The portage began at a sandy beach, but was soon pure mud. There was water on a large percentage of the trail, and it looked like a stream bed for part of the way. I was soon wishing it would go uphill!

About half way across (probably less) there is a bridge to the right. Not sure where it goes, but the ATV trail went that way - so from here on it's narrower like a 'real' portage trail. I saw many moose tracks along the trail, and very very few human tracks. The moose were quite fresh (ie. last day or so), while the human footprints were much older.

I first carried the big pack and my daypack (on my chest). It took about 50 minutes to walk the whole way. I only took one break the first time across.

The trail eventually gets steep (quite so for a short while) and about 10 minutes of the trail is a steady uphill climb. I was quite happy to see the end of the trail, but it wasn't too bad actually. I dropped off my packs and had a break before going back for the canoe.

Part of "The Golden Staircase." Notice how steep it is (rotate until trees are vertical)!


There are a couple of deadfalls along the trail, which didn't cause any problems really. One was actually convenient, as it allowed me to prop the canoe up completely off the ground to take a break.

It took, in the end, about 3 hours to do the entire portage - not too bad really! I loaded up and took to the water for my break - I felt like floating again :)

At the start of the portage, I heard a ruffed grouse beating its wings and making the "Thump-Thump-Thumpthumpthumpthump..." noise. (Click here for a .wav file demonstration) Very cool! Since then, I've been hearing it all the time (every 10 minutes or so!) I even saw one of the birds when I was bushwhacking, but it was just walking, so I didn't get to witness the act.

I paddled up Rockaway and saw 2 cabins on the way - neither of which are marked on the map. I checked out the campsite marked on the point, but it wasn't very nice. When I tied up there, I put my painter around a rock that was partially under water. Without thinking, I pulled the rope snug up against the rock - of course that made it impossible to remove. So I had to lift and wiggle the rock to get the rope out - took about 5 minutes and I just about gave up and cut the rope...[just as I'm writing this (4:20 now) it has started to snow - sort of icy pellets, but really small. Still about 8oC though(??)]...but I got it to come free. So I saved it in the end!

The campsite I'm on is the one marked at the portage to Minky. It's an ok site, but has no flat tent areas, so I'll be on a bit of a hill tonight.

After I set up my tent and sleeping bag, I took off to see the giant old growth pines. I headed back the portage to Minky, then bushwhacked my way to the Minky/Dividing portage. There, I saw a trail off of the portage, and decided to follow it - thinking it would lead to the pines. It was even marked with (very old) orange diamonds. So I followed the trail for about 5 minutes, before I stopped seeing markers. So, I continued on what I thought was the trail. Soon I realized I was no longer on a trail of any sort, and there were no giant pines in sight! So, I decided to head back to the Minky/Dividing portage to try again, thinking I just missed a turn in the trail. So I bushwhacked my way back to the portage and headed down the side trail again. This time I paid very close attention to the trail and markers, but was soon in the same area as before, with nothing else to follow. So, I decided to head back to camp. I was disappointed, because I had only seen a few big trees (and not as big as I had hoped) while I was bushwhacking.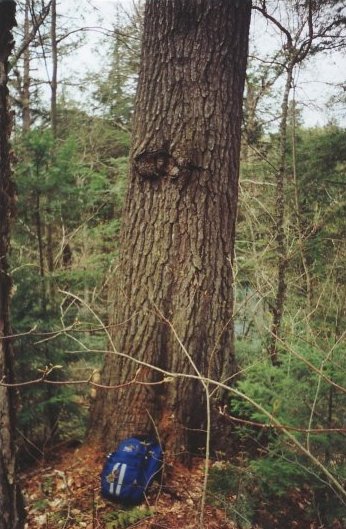 One of the pines that I did see (note daypack for scale)


So, I set a Westerly bearing and walked to meet the portage trail. However, I hit the edge of Minky first, so followed it looking for the trail. I was confused for a moment, and had convinced myself that I had crossed the trail, and walked past the boat beside it, without seeing either, because my map shows the portage put in directly across from the little bay. However, I had walked further than that and not found the trail. I was about to turn around and look again, but decided I should look a little further first. Glad I did - because the portage was less than 50m from where I was going to turn around. So, I arrived at camp 20 minutes after that, or about 3:45.

I'm very disappointed that I didn't see any giant pine, and I don't know how I missed them - I spent 3.5 hours bushwhacking through the area! I did find three quite large ones, and took some pics. However, the biggest ones I saw were all dead, so that's too bad.

7:20 pm

After my bushwhacking escapades, I came back and sat around a bit. By 5 I was ready for supper, so I started cooking - soup (Mr. Noodle). Along with the soup, I had a pita, cheese, pepperette, dried apples and apricots and three cookies. It was a pretty good meal, and really easy.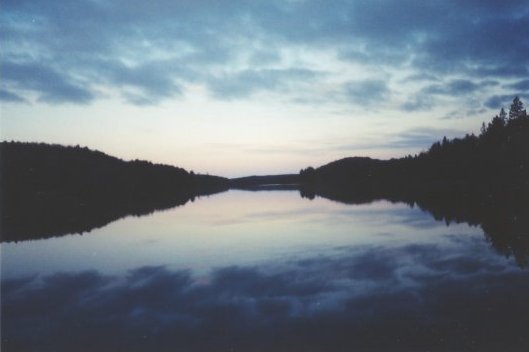 Dusk on Rockaway Lake


I'm now in the tent and ready for bed. Not sure what else to do, and I was getting tired of sitting around outside. It's overcast, so I doubt I'll miss much of a sunset anyway. I've got my candle lantern on, trying to dry out some of my socks - they got pretty wet on the portage.

I just heard some voices, sounds like there is a group on the site across the bay (on the point). I bet they got started today and just got here now! I think I'll get dressed and go see what's up.

10:36 pm

Well, it turns out that the voices I heard were coming to my site. There were 3 canoes (5 people) and 3 tents. They set up camp here and settled in. They're from Peterborough and Toronto.

As they were getting settled in, a second group came (one canoe) and so they set up camp here too - so now there are 5 tents here and 8 people including me. The second couple is from Haliburton. They're all young. Anyway, I just managed to break my MagLite, and can barely see with the candle lantern, so that's all for now!

May 20, 2002
11:13 pm

Well, I didn't get a chance to write more until now that I'm back in Waterloo. I'll start from where I left off...

Saturday night we (myself and the others who showed up) had a campfire and talked for a while. I was exhausted, so was the first to bed, at around 10:30. It was a cool night and we had a hard frost.

On Sunday I was up at 5:15am and quickly packed and had breakfast of oatmeal. I loaded up and was on the water by 6:30 am. I paddled an almost glass-smooth Rockaway Lake to the portage, which took about an hour (maybe a bit more).

Just before the portage I saw a beaver pulling a large stick through the water. Actually, I just saw the moving stick until the beaver stuck his head up. He saw me and went under. A minute later I heard a splash, so I think a second beaver must have rounded the corner and saw me.

The portage was relatively uneventful again, and I was finished double carrying in 3 hours. At around 11 I was underway again. Kimball was about an hours paddle, and I was at Bear Lake soon. I debated if I should have lunch now or wait until I was on the way home for a nice juicy burger. I opted for the later, so continued paddling. Bear Lake was about a 40 minute paddle. I noticed that a lot of cottages were occupied now - unlike when I came through on Friday. There was a little bit of a head wind, but not really enough to cause a problem.

The portage to Livingstone was a breeze after the Golden Staircase, and I soon found myself on the last lake of my trip. I paddled straight to the lodge across the lake, then around the point to the take-out.

As I was paddling to the take-out a truck drove slowly by, then stopped, turned around, and parked. A couple got out - apparently just to talk to me. There were from Hamilton, but had a cottage near Dwight. They asked if I had been out for a "short one," and I replied "Just a couple of days." and he said "Oh, so a long one then." Didn't seem very long to me!

After they had gone, I started packing up my gear and tying the canoe on the car. I drove to Dorset in search of a nice greasy burger. I walked around the big town for a bit, and saw only "The Fiery Grill" which looked a little too pricey for me, so I got back in the car.

In Barrie, I stopped at Licks for a burger. It was good, but not great. Then, an uneventful ride home, with only one more stop just North of Toronto for gas. I arrived home at around 6:45 or so - much earlier than mom and dad expected me.

So, now after spending today (Sunday) helping in the garden and cleaning up my gear, I drove back to Waterloo.

In all, it was a good trip. I'm glad the weather cooperated, as I was expecting rain every day. I'm still slightly disappointed about the giant pines, but I did see three! Seems to me that the portage wasn't as bad as I had heard, but I guess it could easily be if it was bug season, or if it was really hot (or both!) Guess that's all for now...can't wait 'till my next trip!

Darren